The Stevens family has been successfully working with dogs professionally for a decade and a half. Stevens Family Kennels and Dog Language Center is run by the entire Stevens crew. As a family of six the Stevens know why it's critical to cultivate a balance between respect and trust, boundaries and freedom, and firmness and calmness within each dog or puppy they work with. Dogs, like children, naturally seek out this balance. The sad truth is that many dog training facilities and daycares and kennels do NOT provide dogs with those things that are vital for healthy relationships and excellent social interaction. Many kennels and daycares are not supervised by a professional behaviorist but instead are initially run as a kennel or daycare and then, after figuring out they can make more money, the facility adds "training." At Stevens Family Kennels we have reversed all that. Over the many years we have behaviorally rehabbed dogs that have killed other dogs back into socially normal, wonderfully behaved dogs! We know dog language and are actively defining it for the public.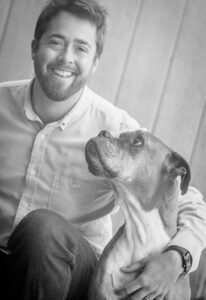 Garrett Stevens is a husband, father of four, behaviorist, and an author, speaker, and chronicler of the dog language. His groundbreaking books, Dog Myths: What you Believe about dogs can come back to Bite You!, and So Long Separation Anxiety are helping readers understand the pitfalls of mainstream dog training practices by revealing a more natural, calming, beneficial approach that is familiar to all dogs and that is NOT dependent on food treats or on harsh handling. Garrett's reputation and behavioral rehabilitation work with dogs (even and especially dogs that other behaviorists/trainers could not help) is well known throughout the South Sound area. His writing has been featured in the Pet Connection Magazine, on the Wolf and Iron website, on his WordPress blog (www.thecaninecalmer.wordpress.com) and in his books. When he's not training and supervising the kennels he is working on his next books. He was recently approached by an executive TV producer that had read his first book, Dog Myths, and they discussed plans (over three meetings) to go forward with a TV show based on his unique training because it is so different in the industry and to showcase the special dogs the Stevens family works with - we'll see what the future holds!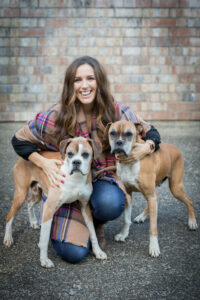 Amalia Stevens is a wife, mother of four, book keeper, schedule master, and all-round industrious wonder. If you've booked a stay for your dog at Stevens Family Kennels you've probably spoken with Amalia. She is always the consummate professional and is the backbone of the entire family and family business. Her knowledge and handling of the dogs grows rapidly each and every day.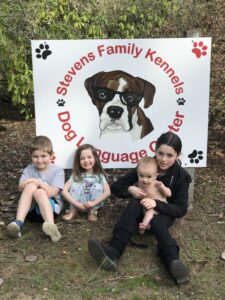 The Stevens kids help out with daily tasks around the kennel and acreage. They are terrific little helpers that we watch with growing excitement because they are learning responsibility, teamwork, leadership, and, of course, dog handling, dog language, dog behavior, and general canine care. They also help with the socialization aspect of our work with the dogs because whenever they are running around it helps desensitize the dogs further and teaches the dogs not to waste energy on frivolous barking, lunging, or other fearful, hyper, or aggressive behaviors and they love playing and walking the dogs too.
We are so thankful for all our blessings here at Stevens Family Kennels. We'd love to share some of our blessings with you and your pooch. Call to reserve a stay for your dog!